This is what owning your own personal resort looks like.
At the foot of an estate drive surrounded by an enchanting cedar forest, you'll come upon an Ontario vacation retreat situated on 98 acres of pristine land at 201 Little Cove Rd.
Nestled in the quaint harbour town of Tobermory, this seven-bedroom, eight-bathroom lakeside estate offers countless amenities.
Originally built as a boutique resort, 201 Little Cove Rd. pairs modern architecture and natural finishes to create a harmonious blend of nature-meets-elevated-design.
This luxury private estate is surrounded by beautifully landscaped grounds and true to its roots, offers countless areas to unwind both indoors and out. From the property you can hike the ancient coral reefs of the Niagara Escarpment, connect with the Bruce Trail, or explore the shipwrecks in Fathom Five Park.
Listed currently at $9.7 million, this property is truly an outdoor enthusiast's dream.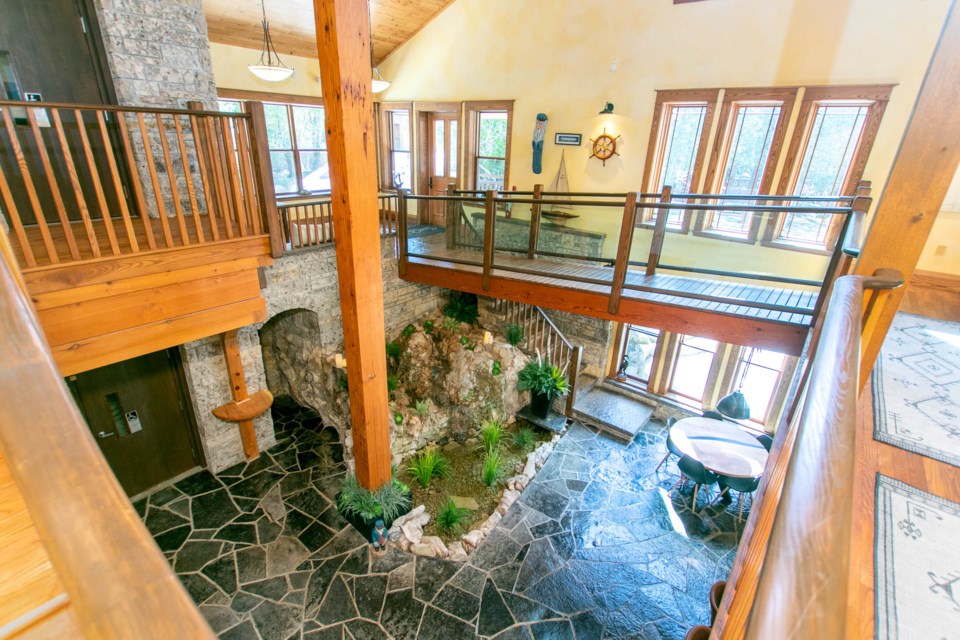 Newly renovated with beautifully restored features, this private estate is thoughtfully detailed with a mix of wood and stone. Focal to the main living space, the grand gallery spans three stories and is encapsulated with windows that flood the space with natural light. Towering Douglas fir columns stretch from floor to ceiling accenting the true grandeur of the space.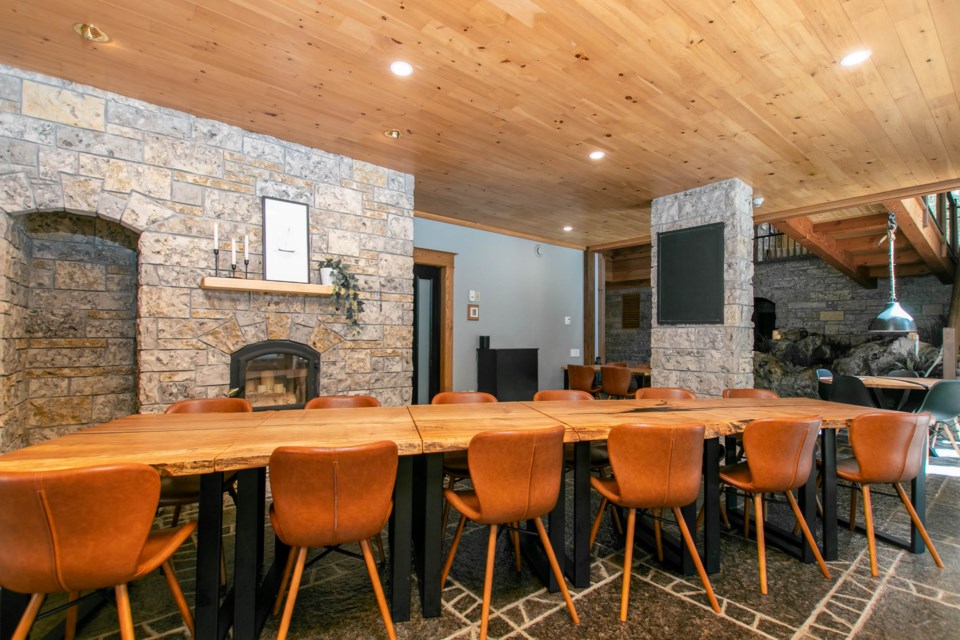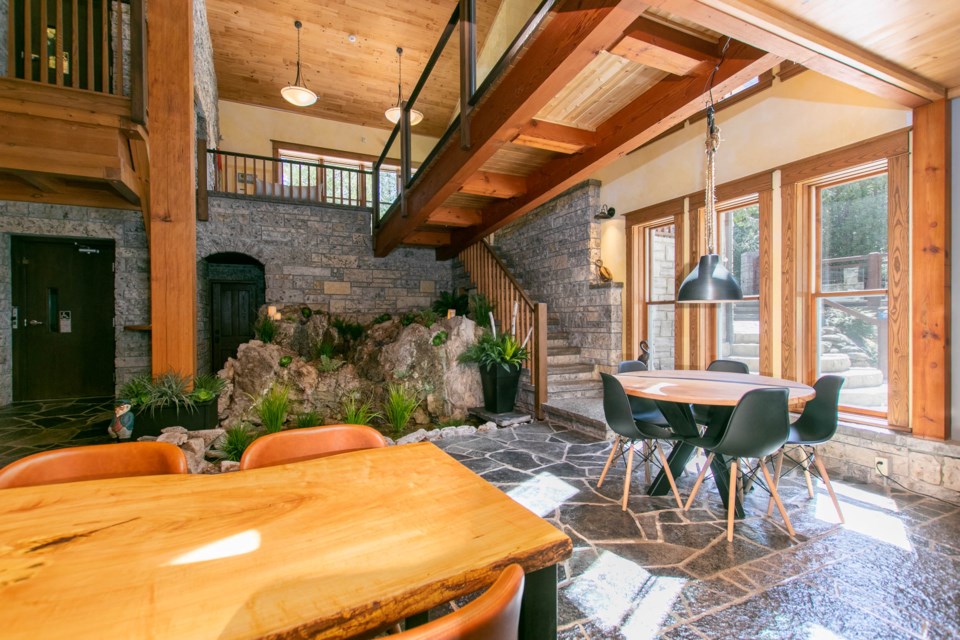 The spacious lower level of the grand gallery is a dining hall large enough for a banquet-style table with room to spare. Dine between a wood burning fireplace and natural indoor stone waterfall. The warm, inviting space features locally-sourced heated stone floors.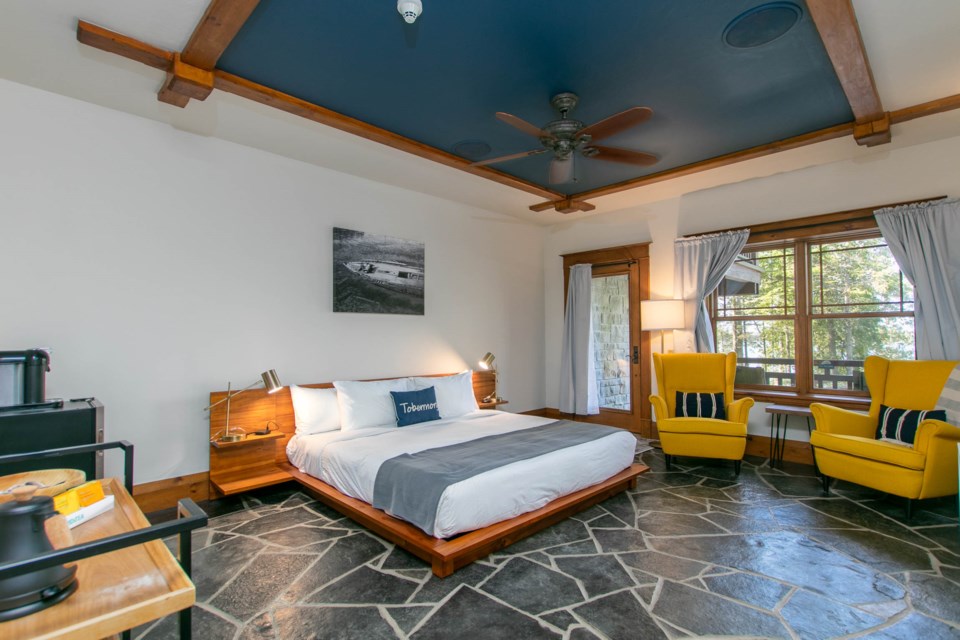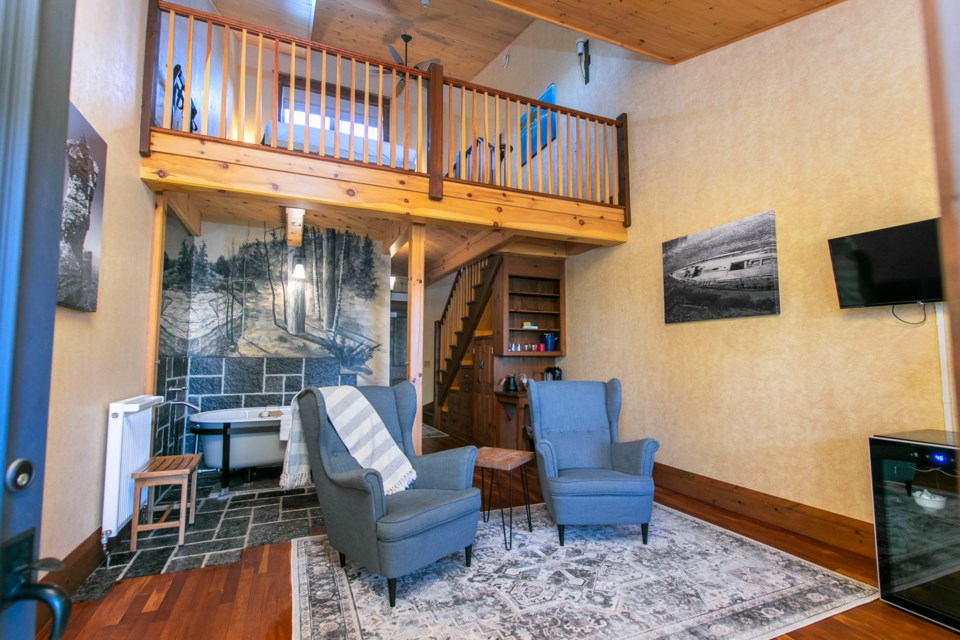 Originally designed as commercial lodging, 201 Little Cove Rd. offers no shortage of creative bedroom and suite layouts, many boasting balconies with amazing views of Georgian Bay. The Loft-style suite pictured above features a roll top tub, den and loft making it a perfect guest room.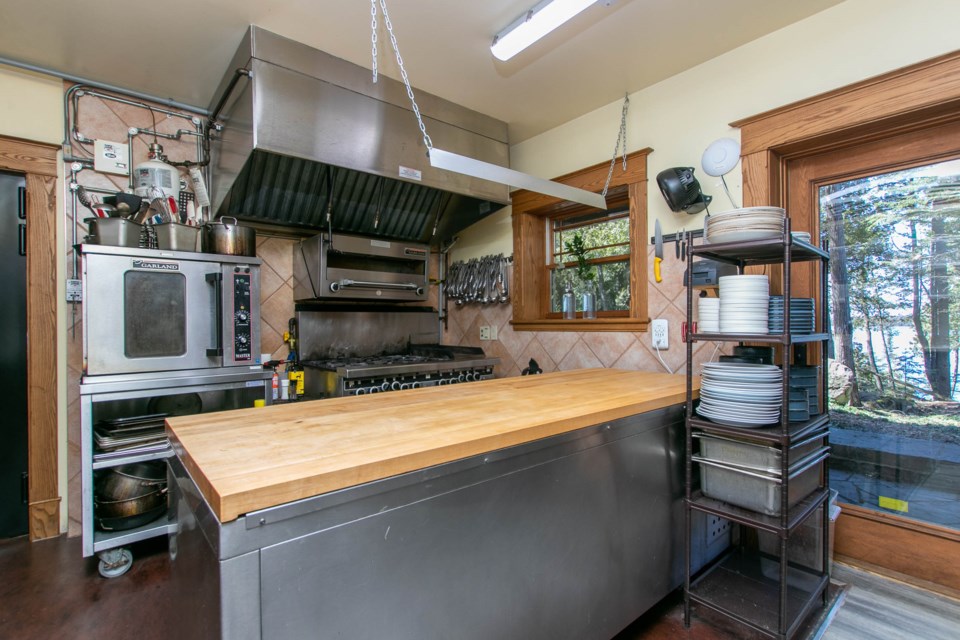 You can't help but imagine hosting and entertaining here, given all of the conveniences, comforts and touches of luxury. Wine lovers will appreciate the wine cellar and commercial grade kitchen complete with Garland appliances.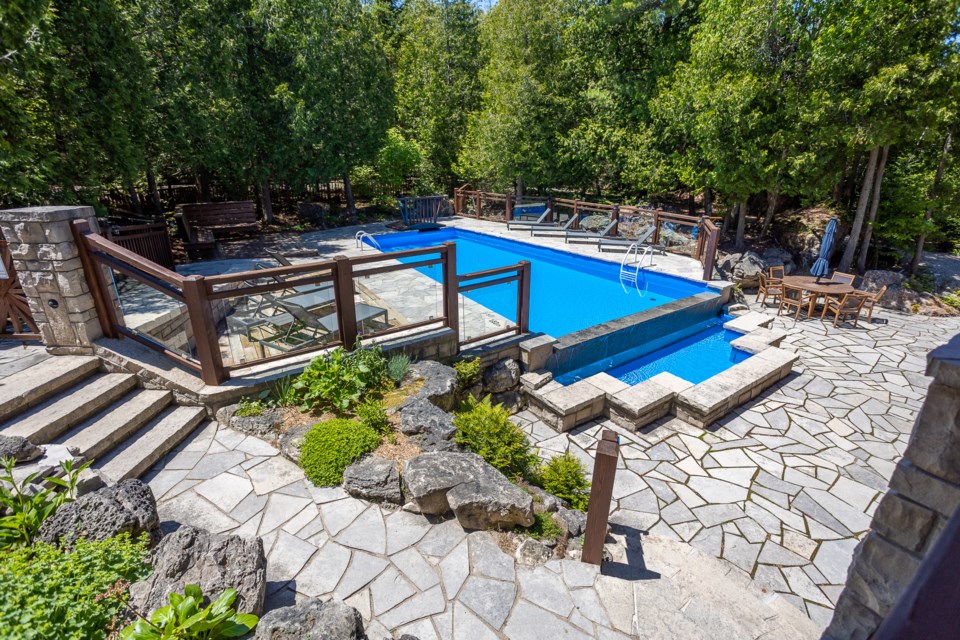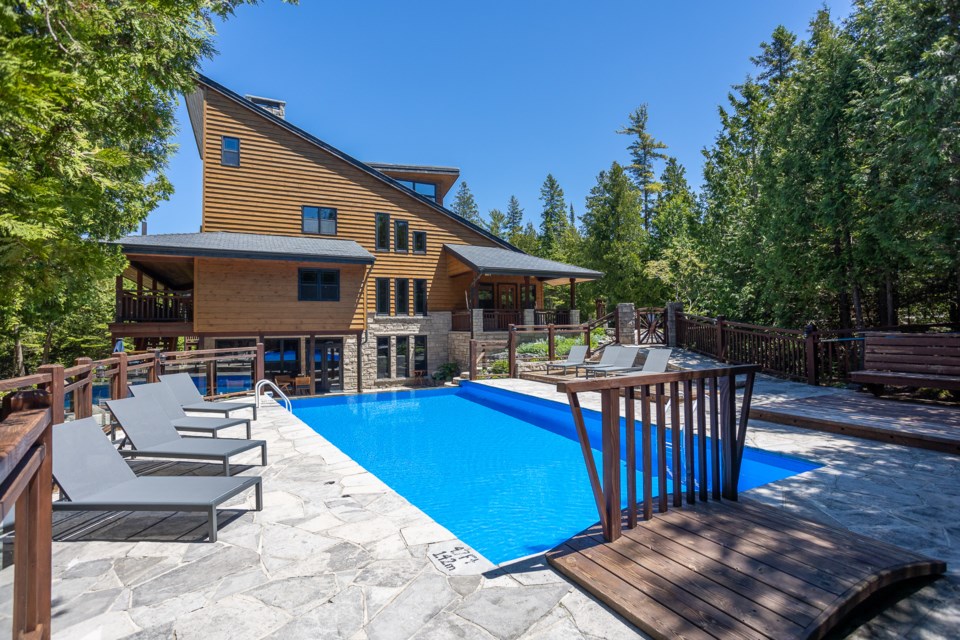 This is what owning your own personal resort looks like. Cool off in an infinity-accented pool protected by tall cedars or take a steam in the spacious indoor sauna. The surrounding outdoor setting is peaceful and idyllic with fabulous perennial gardens, natural ponds, a large vegetable garden and fragrant lavender labyrinth.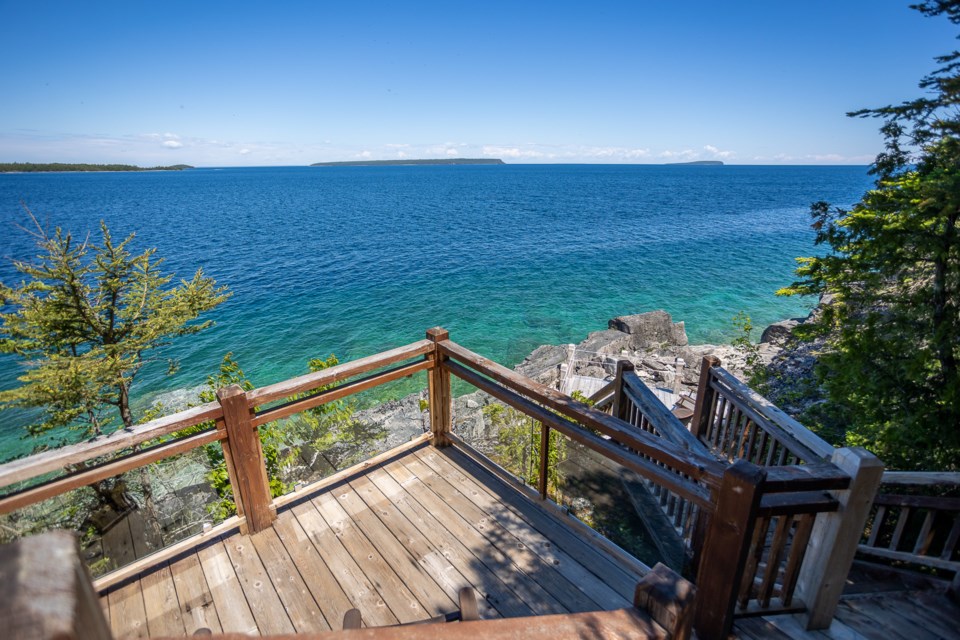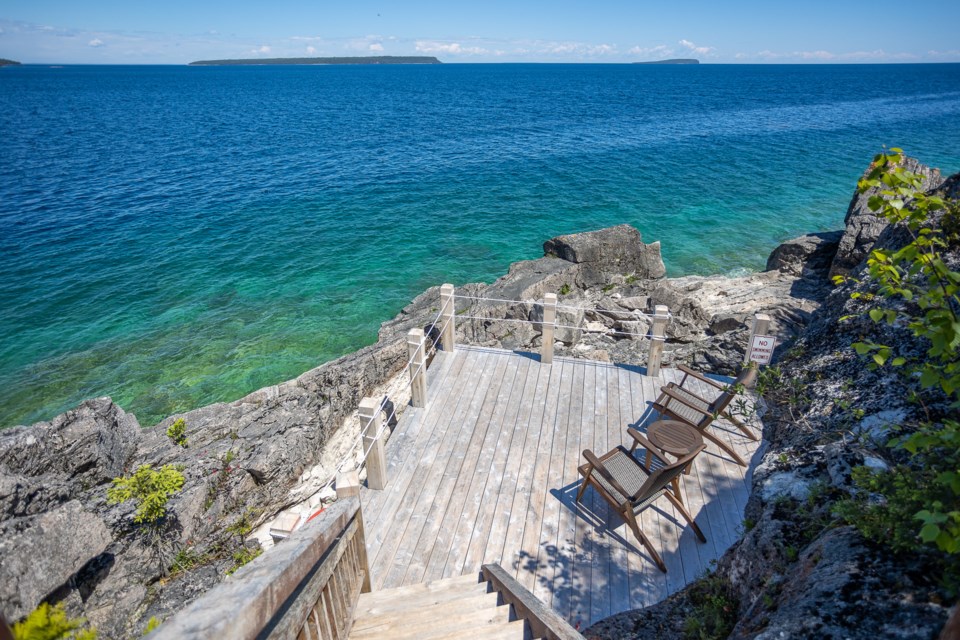 Beyond the manicured grounds lies 700 feet of jewel-toned waterfront. Multi-platform decks offer some epic spots for entertaining, sunbathing, stargazing or daydreaming.
Why Tobermory?
Located at the top of the Bruce Peninsula, Tobermory is surrounded by the crystal teal waters of Georgian Bay and is home to Flowerpot Islands and two National Parks. With opportunities to explore ancient limestone caves, have access to some of the best freshwater SCUBA diving opportunities in Canada, explore the shipwrecks in Fathom Five Park and choose any number of local trails and waterways to run, bike, hike or paddle the area is an outdoor enthusiast's paradise.
Add in a thriving culinary scene and a laid back coastal vibe, you can see why Tobermory was named one of the top emerging destinations worldwide by Tripadvisor in 2011.
201 Little Cove Rd. is listed with Mark McDade of Chestnut Park Real Estate Ltd, Brokerage (Tobermory).