As Canada's cost of living continues to rise, more and more residents are feeling the financial squeeze.
For those finding it harder to make ends meet, the prospect of moving to a more affordable location may seem increasingly appealing. And whether seeking a lower cost of housing or more affordable daily expenses, many Canadians are exploring their options and considering a change of address.
If this sounds like you, a new report has detailed the most frugal places to live in Canada, where you'll not only find more affordable housing options but also lower costs of living — which will help your money go a lot further.
Yore Oyster, a personal finance and investment company, analyzed 30 Canadian cities with the lowest costs of living, which covers rent, utilities, food, transportation, and miscellaneous goods and services, and affordable homes and scored them on the following criteria:
Median Household Income After Taxes
Total Monthly Living Cost (Family of 4)
Average Home Price (3-Bedroom)
Average 3-bedroom apartment monthly rent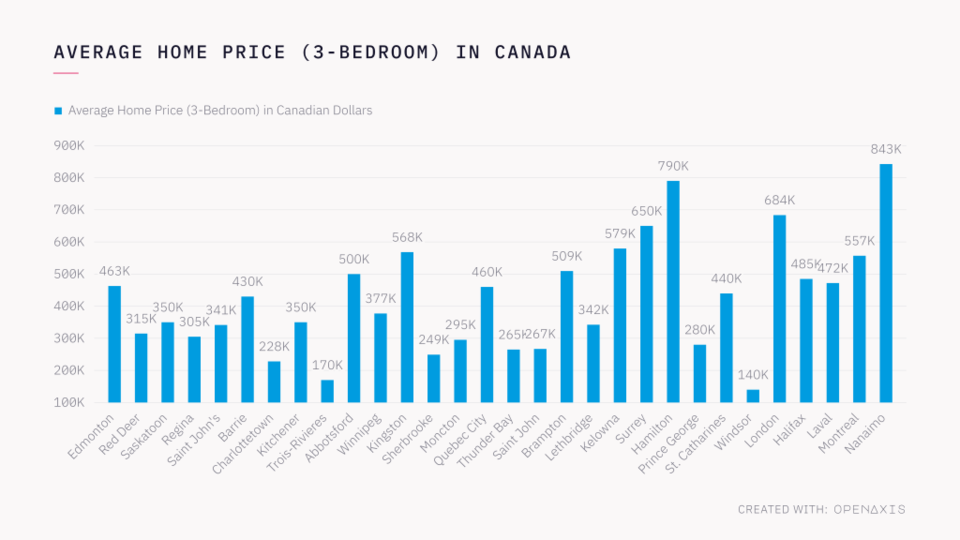 According to the findings, Edmonton, Alberta topped the list of the country's most frugal cities, where the median household income after taxes is $93,748, the total monthly living cost for a family of four is $5,326, while the average monthly rent for a 3-bedroom is $1,550.
Of the 30 most frugal cities featured in the report, nine are located in Ontario, including Barrie, Kitchener, Kingston, Thunder Bay, Brampton, Hamilton, St. Catharines, Windsor, and London.
If you're looking for the most affordable housing and living expenses in Ontario, you may want to consider relocating to Barrie, which placed 6th on the ranking.
According to the report's findings, the total monthly living costs for a family of four is $4,753, while it costs around $2,400 to rent a three-bedroom apartment.
These are the most frugal cities in Canada:
Edmonton
Red Deer
Saskatoon
Regina
Saint John's
Barrie
Charlottetown
Kitchener
Trois-Rivières
Abbotsford
Winnipeg
Kingston
Sherbrooke
Moncton
Quebec City
Thunder Bay
Saint John
Brampton
Lethbridge
Kelowna
Surrey
Hamilton
Prince George
St. Catharines
Windsor
London
Halifax
Laval
Montréal
Nanaimo
It's no secret that the cost of living in some Canadian cities is becoming increasingly more expensive, not to mention that home ownership is becoming further out of reach for many Canadians due to the Bank of Canada's ongoing interest rate hikes and steep stress test requirements which have made it harder for many would-be buyers to qualify for a mortgage.
So, if you're feeling the pinch of the Canadian economy and you're looking to save money on your daily expenses, one way to do so is to live in a city with a low cost of living, as this can help you stretch your budget and allow you to save more money over time.