Mike Commito has been a Toronto Maple Leafs hockey fan as long as he can remember. This wasn't a choice he consciously made, but rather something he kind of inherited.
His mom is an even bigger Leafs fan than he is, and she's probably the reason he started cheering for the team.
"I think when it came time to follow a path, I chose her path," he said. "I think a lot of fans of my vintage probably had somebody in their life that influenced them, whether it was one of their parents or their grandparents or an older sibling."
Such is Commito's love of the Leafs that he recently penned a book about his favourite team, "Leafs 365," published by Dundurn Press.
It includes 365 short stories about the team's history — one for every day of the year — to remind fans why they still cheer for the blue and white season after season, despite the fact that the Leafs are under a "curse," having not won the Stanley Cup since 1967.
"I honestly think that when that becomes your team at such an early age, there's really nothing that can shake that fandom," he said.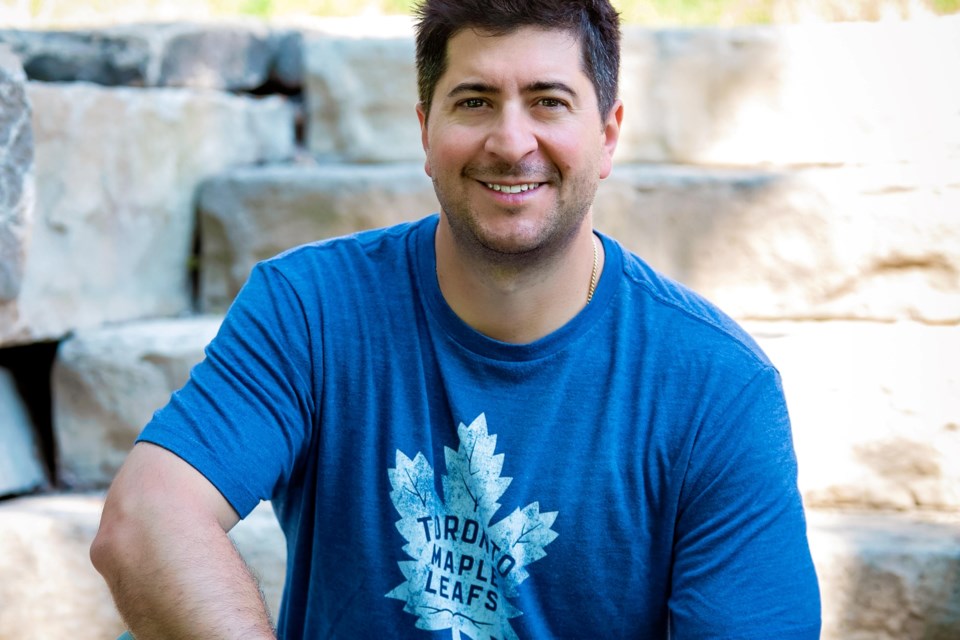 Sudbury's Commito, who, for his day job, is Cambrian College's director of applied research and innovation, has previously put out two other hockey-related books, also published by Dundurn Press.
A biography of the author provided in press materials jokes that in 2003, Commito became eligible to be drafted to the NHL, but is still waiting for the call. He satisfies his love of the game through rec hockey, fandom and hockey writing.
In 2018, Commito penned his first book, "Hockey 365: Daily Stories from the Ice." It has a different hockey story for each day of the year, chronicling the sport's history as far back as 1875.
He came out with a second volume of hockey history stories in 2021, "Hockey 365, The Second Period: More Daily Stories from the Ice."
Commito said he does want to finish out regulation time with a "third period" of Hockey 365, but didn't feel quite up to tackling that project just yet, so he decided to focus on his lifelong favourite hockey team.
"One of the other ideas was, what if we focused on smaller teams?" he said. "What we ended up arriving at was taking that concept and applying it to the Toronto Maple Leafs and doing 'Leafs 365.'"
If you're intrigued, but you're actually a Habs fan, don't fret — Commito is now working on "Habs 365," with the same concept.
In writing these hockey history books, Commito is hoping that people will remember what they were doing when these events happened.
An example is the Oct. 12 story in the book, which recalls the day in 2016 when Auston Matthews scored four goals in his NHL debut, establishing a modern-era record for the most goals in a rookie debut.
"For me, that game was more special because my first daughter, Zoey, was born two weeks earlier," Commito said, adding that he even put a Leafs onesie on the baby for the occasion. "That was the first hockey game that she and I watched together."
He also wanted to tell stories about the Leafs that have been "forgotten to history."
An example of this was the Feb. 7 story in the book, telling the story of the day in 1976 when Darryl Sittler scored 10 points, establishing a new NHL record, which has yet to be
matched, for the most points in a single game.
He had always stuck to his pre-game routine, which included his wife preparing his meal, but on that day, Wendy was unavailable, so Sittler picked up some chicken from Swiss Chalet and ate it in his car.
"If anyone from Swiss Chalet is reading this, here's an idea on the house: the 10-point chicken dinner every February 7," said the book.
"I just think it's kind of hilarious, because hockey players are usually creatures of habit," Commito said.
Asked what he found to write about in the warmer weather months, given that the Leafs don't usually get too deep into the playoffs, Commito said "I focus on different free agent signings or trades that round out the calendar year."
If you or someone you know is a hockey superfan, and you'd love to get your hands on "Leafs 365" or Commito's other books, you can order them from online sellers such as Amazon or Indigo.
Heidi Ulrichsen is Sudbury.com's assistant editor. She also covers education and the arts scene.