Ontario Provincial Police and York Regional Police are now offering a $100,000 reward to anyone with information that will lead to the location of Elnaz Hajtamiri, who was violently abducted from a Wasaga Beach home on Jan. 12, 2022.
Hajtamiri, who also goes by Tamiri, has been missing for one year.
OPP Det. Insp. Martin Graham said he's been a police officer for 32 years and never been involved in or aware of a case similar to this one.
"A female not involved in crime is literally plucked out of a house with violence, and nothing's been seen or heard from her in one calendar year, that is incredibly rare and disturbing," said Graham during a news conference today.
On the evening of Jan. 12, 2022, Elnaz Hajtamiri, 37, was abducted by three men who were impersonating police officers. They charged into the Wasaga Beach home where she was staying, grabbed her, dragged her outside and put her in a white SUV and then drove away with her in the back seat.
"Nothing weighs more heavily on our souls than the idea that we may never know what happened to Elnaz," said her mother Fariba Hajtamiri in a statement. "We know there are people out there who have information and who may be contemplating whether to come forward. We pray that you will do the right thing and help us out of this suffering and bring justice for Elnaz."
Police have released two composite sketches of two of the three masked suspects involved in the abduction. Both suspects wore dark jackets over fake police vests, a balaclava with white trim pulled up over their nose and mouth, a gold, red and blue badge chained around their neck and dark pants, according to police.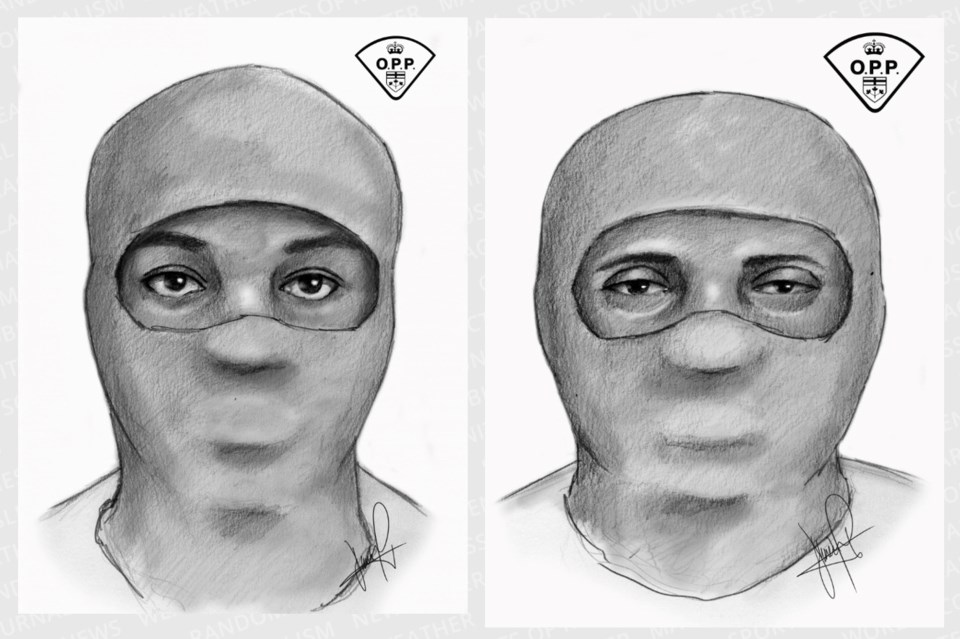 The first suspect is about six feet tall, very skinny, with light black skin, and a long narrow face. He was wearing a thick black belt with an attached handcuff pouch and holstered black gun with a magazine inside. The gun appeared to have been worn with metal areas exposed.
The second suspect is about five-feet-nine-inches tall with lighter black skin. He is stocky with skinny legs, wearing white/cream coloured shoes with a plastic toe cap, cotton black gloves and was carrying imitation handcuffs.
Hajtamiri is about five-feet-three-inches tall, slim build and had shoulder-length black hair that had been cut shorter before she was abducted. She immigrated to Canada from Iran less than five years ago.
Weeks prior to the abduction, Hajtamiri was attacked in a parking garage at her home in Richmond Hill on King William Crescent. She was beaten over the head with a frying pan before her attackers fled in a stolen vehicle, which was later recovered. Hajtamiri was taken to hospital and received stitches for a gash on her forehead.
Her ex-boyfriend, Mohamad Lilo, 35, was charged in both cases in July. Police have said he faces an abduction charge in Hajtamiri's January disappearance, and attempted murder and attempted abduction charges in the December parking lot incident.
Graham said Lilo's case is before the courts and subject to a publication ban, but did confirm Lilo had a shipping container business and he was responsible for movement of the containers from Canada to "all parts of the world."
York Regional Police have also charged two other men in the December case.
Police have stated the two events are linked.
"We are looking into numerous investigative avenues, if there's evidence to charge anybody further, that's what we will do," said Graham. "The investigation is still ongoing and we do not know the identity of any of the three kidnappers from January."
Graham is asking the public to look closely at the sketches.
"We know someone recognizes these suspects and can provide us that bit of information that will lead to Elnaz's whereabouts," said Graham in a news release. "We hope that anyone with any information will do the right thing by coming forward to police. Help us bring resolution to Elnaz's family."
Police established a dedicated tip line for the investigation in January. Anyone with information on this abduction and home invasion can call the dedicated tip line at 1-888-728-3415. Police are also using the hashtag #BringElnazHome on social media. Information can also be reported anonymously to Crime Stoppers at 1-800-222-TIPS (8477).